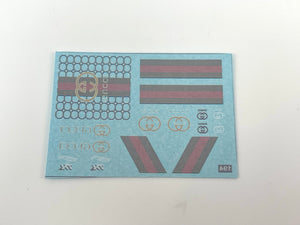 Yeah it's All Gucci.. Ever since this high end luxury brand collaborated with Hot wheels on that vintage Cadillac Seville, customizers have been making their own bouche themed builds with this theme. So now you can make and floss your own baller ride with this livery. This can be used on a variety of different castings in several different layouts. You could get real creative with this one!
* Decals may come on a white or blue paper and some may look faint in color. However, after they all are the same actual decals. Once they get submerged in water and you slide them off, their true colors will all appear much bolder than it looks on paper.
*Note: It is recommended to lightly clear coat and let it dry over night before use. Cut decals carefully with a sharp hobby knife / precise scissor. After cutting place decal into water and let it sit for about 15 seconds. Next carefully place the decal to desired area (option to use a decal softener / setter solution) by using a fine edged tweezer may help. Lastly, once decal is in place you may spray or gently brush a clear coat over it a layer of protection.
**Any cars / stock photos shown are used as examples only and is not included
***Attention All International Customers*** : Please contact us with your specific order and address for shipping rates and details